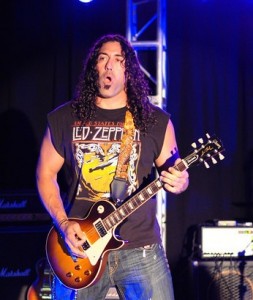 True Story: I was on my way home from surgery to repair a shoulder injury I suffered in the squared circle. Tied up in a sling, I decided I was going to play the guitar…go figure. Checking out at the register in my local Guitar Center, I realized I'd better start taking lesson ASAP or this beautiful Les Paul may become my newest dust collector. I went back to ask the salesman if he knew of anybody who teaches. He pulled out a card and said "he's the best around." I called Greg and stared lessons immediately. My first lesson included Happy Birthday – 6 months later I was playing Leslie West's "Mississippi Queen" at the Sacred String guitar recital in Ocean Beach, ON STAGE IN FRONT OF PEOPLE! I started my band 3 Spoke Wheel a month later. Since then I have had the opportunity to record on an album with another band and 3 Spoke Wheel went on our second US tour in June 2010! All I can say is if I had not made the call to Greg I probably wouldn't be where I am today. He's patient yet persistent, he tailors his lessons to each individual, he preaches the importance of music theory, he makes it fun, and most important…he motivates you to GROW! 2 years later I'm still with him as a student and a friend. Thanks Greg!
Chuck Palumbo – Former WCW,WWF and WWE Wrestling Superstar
Guitarist for Three Spoke Wheel and VYRUS
---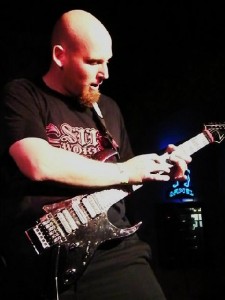 As a professional musician the pursuit of becoming the best player that I can possibly be is a daily endeavor of many hours of dedicated practice and study. The most invaluable tools in my practice regimen are dedication and the teachings of Greg Vaughan at the Temple of The Sacred String. For many years I neglected the implementation of theory in my playing choosing to focus only on speed and technique. However, with out theory these two aspects of playing are limited to a lot of trial and error to find what does and does not work musically. After many years of frustration, I stumbled across a great player that turned out to be a great teacher as well. Greg's simple approach to instruction, knowledge of the instrument, and his ability to communicate in a fashion that can be understood by all makes him a true asset. Greg's Way of the Sacred String gave me the necessary theory and tools that I needed to fill in the gaps in my playing. If you are serious about playing and want nothing more than to crank some hot tubes and shred until your fingers bleed, go to The Temple and practice what you learn.
Dustin Thompson – Guitarist for Aizen and KickingK8
http://www.myspace.com/aizenmusic
---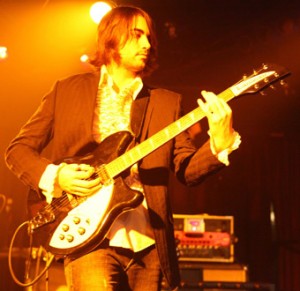 My name is Tyler Marderosian. I play many types of rock including alternative, progressive, classic, and metal. I tried to pick up the guitar 7 years ago but I could only teach myself so much. I could never play whole songs, just riffs and I wasn't getting any better. That is when I decided that I needed a teacher and Greg Vaughan came highly recommended to me from Guitar Center. I started studying the Way of the Sacred String, learning theory, and entire songs. Within a year I was headlining the Whiskey A Go Go in Hollywood with a band called The Orphics. Since then I have played several clubs, parties, and festivals. And now I am the guitarist in Greg's R.E.M. Tribute Band MURMUR! If it wasn't for Greg Vaughan, I would still be in my room playing the same riffs over and over again. Thanks to him, I have the tools that I need to succeed as a musician and in life.
Tyler Marderosian – Guitarist for MURMUR – A Tribute To R.E.M. and The Orphics
---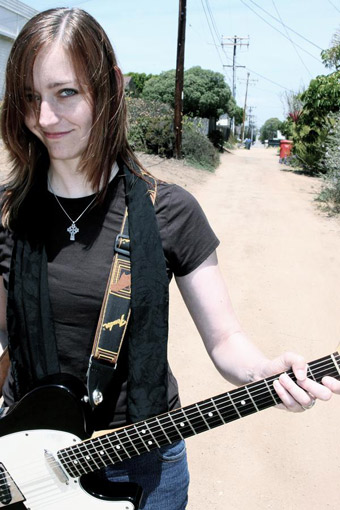 I took lessons from Greg Vaughan for at least a couple years. I've taken lessons with other instructors in the past, but I've never been in a learning environment quite as positive and encouraging as Greg's. He definitely knows his theory and has quite a performance record, which is very helpful for the performing student. If it wasn't for Greg's help, I wouldn't have been able to achieve some of the goals I've had, both personal and professional.
Wendy Bailey – Nominated for Best Pop Artist at the San Diego Music Awards 2009, 2010, 2011
---
As a gigging musician in his 40s, I find it difficult to find guitar teachers that really listen to where I am in my playing and what I need.  Too often guitar instructors have a cookie-cutter curriculum that they try to squeeze you into.  Not so Greg.  Greg listens to my playing and finds exercises that not only reinforce what I'm doing but force me to stretch myself — which is just what a good teacher does.  I walk out of my sessions with Greg with two ideas I can use that weekend and four more to work on for our next lesson.
Michael Rennie
– Guitarist for Rio Peligroso
Rio Peligroso Facebook
---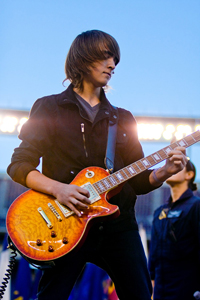 I have been taking guitar lessons from Greg for three years.  I already had a strong background in piano and Greg was able to help me apply the theory I already knew to guitar.  Aside from technical skills, Greg has given me professional career advice that I've been able to use on stage.  Whenever I come into a lesson with an idea, or something that I've heard and want to replicate, he is always able to understand what I mean, explain it in great detail, and teach me practically everything there is to know about that technique or style.  I have also learned an enormous amount of guitar history and have been introduced to bands and guitarists that I never would have known about.  Now, at fifteen, I'm playing in two bands and have played numerous gigs professionally across San Diego County including the Del Mar Fair, Queen Bee's and Lestat's. This summer, I played the national anthem at Qualcomm Stadium for the opening ceremony of the State Games of America. None of this would have been possible without Greg's enthusiastic advice and patient teaching.
---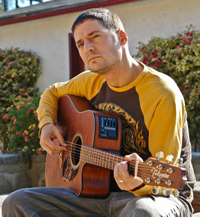 SONGWRITING IS HARD
A personal story of one man's search for musical enlightenment at the Open Mic Night
by Doug MurphyTo practice is not enough. Growth as a musician requires us to understand what makes great music.  Most of us have been listening our whole lives, studying the masters of our favorite genres, marveling at their inventiveness and copying their techniques.  This is how we reach new heights – by standing on the shoulders of giants.  But comparing the Great to the near-Great ignores the larger gap.  For many of us, as students, the path from scales to stardom is composed of a thousand small steps.  This is a path every great musician walks, but it all happens before they cut albums and fill stadiums.  It happens out of our view, robbing us of the opportunity to observe and learn – unless we know where to look.As a student at the Temple of the Sacred String, I searched for a way to learn what my musical heroes already knew. The Wizard guided me down a surprising path.  "You learn," he said, "by seeing what not to do."  With that he sent me to the beginning of performance, to see young musicians who had not yet polished their craft and old ones who never would.  The ancient tradition of Open Mic Night revealed to me the secrets that no book, no lesson, seemed to make me understand.
---
For Guitar Lesson please fill out this form: