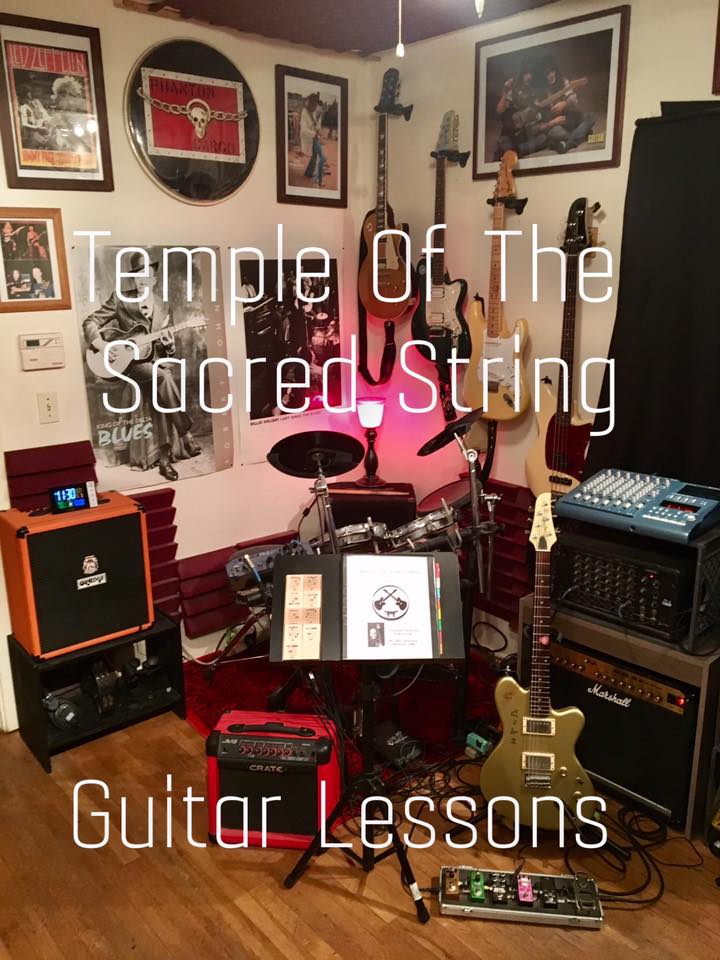 Located in North Park (Central San Diego), California
30 Years teaching and performance experience
Winner of Guitar Center's Guitarmageddon 2005 for San Diego, CA
Studied and performed with Legendary Scorpions guitarist Uli Jon Roth
Nominated for 2 San Diego Music Awards in 2009
Performed at Qualcomm Stadium, House of Blues, 4th and B, The Casbah, Winston's, Belly Up Tavern, The Whiskey, The Roxy, Wanderlust Festival, Lucidity Festival, Phases Of The Moon Festival, and Burningman Festival
Television appearances on America's Got Talent, Real Housewives Of Beverly Hills, FOX Rox, and KUSI News
Original music featured on television programs Real Housewives Of Beverly Hills (Bravo Channel), Rusted Development
(Discovery Channel), and Leeza (NBC),
Appeared and performed original music in the EMMY Award winning short film Anything But Frogs
All Levels Welcome – Beginner To Advanced – AGES 9 and Up
Lesson are held Monday to Thurs Noon to 8 PM
Friday Noon to 5 PM
$25 Half Hour  –  $40 Hour
First Time Student Specials – 4 half hour lessons for $75 (18.75 each) – 4 hour lessons for $120 ($30 each)
To learn what some of my students have to say please go here.  TESTIMONAILS
Lessons will include – purchasing equipment – tuning – intonation – reading/writing tabulature – notes on neck – scales and modes – chord shapes and theory – triads – arpeggios – harmonics – bending – vibrato – picking/fingering exercises – hammerons/pulloffs – fingertapping – song structure – blues progressions – transposing – tips for learning songs – songwriting – audition tips – working with a band – writing chord sheets – improvising – goal setting -energy and dynamics – classic and current songs
Reserve the right to refuse service.  If we are not a good match I can assist in finding another teacher.
What is the "WAY OF THE SACRED STRING?"
I have a wholistic approach to teaching guitar that incorporates ideas from my diverse educational and performance background.  As a youth in San Diego I studied 3 years of guitar and music theory with Jeff Bishop – 3 years of vocal technique with opera singer Dora Walker – 3 years of classical piano and music theory with George Farris – and 7 years of dance with Bonnie Ratzin.  I then went on to graduate from the vocal program at the Musicians Institute in Hollywood, CA.
Having picked up guitar at age 12, I started teaching a mere 4 years later at the age of 16.  My first students were high school friends as I became known as one of those kids locked in his bedroom learning Van Halen and Led Zeppelin songs note for note.  I continued teaching casually throughout my life never having more then a few students at a time. All the while I kept developing my own exercises and visual approach.  In 2003 I decided to officially open my school and started working on putting together my instructional book the "Way Of The Sacred String."  Using not only my musical background, I draw on lessons I learned from studying the martial arts and eastern philosophy.  I also gained insight into muscle memory and physical adaptation from my experiences as a personal trainer for 4 years.
I learned much about teaching and body awareness from a lifetime of watching my father Glen Vaughan.  He is recognized throughout the world as an elite gymnastics instructor.  He is in the Hall Of Legends with the World Acrobatic Society.  He has coached 8 National Champions for the YMCA, 5 National Champion teams, Olympic athletes, and circus acrobats. He was a gym supervisor for the 1984 and 1996 Olympics, and travels the United States conducting coaching workshops.  He is known as a "Teacher's Teacher."  I have tried to absorb my father's wisdom and apply it to teaching technique, theory, discipline, and goal setting to my students.
Taking a cue from Bruce Lee's "Dao Of Jeet Kune Do" (or way of the intercepting fist), I decided upon the name "Way Of the Sacred String."  Bruce Lee said, "Absorb what is useful; disregard that which is useless." Just as Bruce Lee adapted Indian philosopher Krishnamurti's ideas to revolutionize the martial arts world, I want my students to go beyond dogma, style, and narrow-minded limitations to draw inspiration from all styles of music and art. Bruce also wrote "The only thing that matters is what scores." I want my students to remember that first and foremost music is a form of communication, and the goal of studying guitar is to improve your ability to communicate with the listener.  The guitar is not an end in and of itself, but rather a means to an end for expressing yourself.
I am fascinated with the theoretical physics of String Theory.  The simplest explanation of this is the idea that at the smallest level all matter is composed of one-dimensional vibrating strings of energy. The strings on a guitar also vibrate at various frequencies that can be manipulated to express different emotions.  I have fused all of this into the idea that each individual's quest for truth and balance is a search for their own internal "Sacred String."  The study of the arts is a process of finding what note is resonating inside you, and then communicating that frequency to the world.  An instructor can improve your technique, and share a lifetime of wisdom and experience.  But a teacher is only a guide, and ultimately the student must walk their own path, and decide what it is they want to say.  Find the source of your energy, and share it with everyone.
If you would like Guitar Lessons please fill out this form:
Thank You,
Greg